Hurricane releases cover of Queen / David Bowie classic "Under Pressure"
Robert Sarzo's upcoming live shows with Hurricane and Diane & The Deductibles

VAN NUYS, Calif. - Aug. 23, 2019 - PRLog -- Hurricane consisting of guitarist Robert Sarzo, bassist Tony Cavazo, drummer Mike Hansen and lead vocalist Chad Cancino has released a cover of the Queen / David Bowie classic track Under Pressure.

Hurricane formed in the 1980s, originally featuring current Foreigner lead vocalist Kelly Hansen (vocals/rhythm guitar), Robert Sarzo (guitar), Tony Cavazo (bass), and Jay Schellen (drums). Cavazo and Sarzo are the younger brothers of Quiet Riot's Carlos Cavazo and Rudy Sarzo.

Hurricane released four albums: Take What You Want (1985), Over The Edge (1988), Slave To The Thrill (1990), and Liquifury (2001).

Since Hansen's departure from the band in 2003 and the group reforming back in 2010, the lead vocals have been handled by different singers consisting of Andrew Freeman (2010-2012), Jason Ames (2014-2015), Michael O'Mara (2016-2018) and now Chad Cancino.

The iconic group is scheduled to co-headline The Rainbow Bar and Grill Backyard Bash in West Hollywood, California, USA on Sunday, September 1, 2019 along with Steven Adler formerly of Guns N' Roses.

Robert Sarzo states:

"I saw Queen at a very early age with all of the founding members - meaning Freddie Mercury. I always loved them from the first moment I heard any of their songs. When I owned the recording studio in Sherman Oaks, I was doing work with different movies creating music. This was one of the songs I was commissioned to do a cover of for a movie. So I've had it in my vault. You have to remember that it was Bowie and Freddie - two of the legends - and it was one of my favorite Queen songs. It's just been sitting there and I'm a fan of Queen and I wanted the public to hear it."

Check out Under Pressure by Hurricane video here:
">
In addition to being a founding member of Hurricane, Robert Sarzo is also active as the lead guitar for Orange County-based band Diane & The Deductibles. Robert Sarzo unleashes his legendary skill and verve to the band, bringing his years of experience and shred in such outfits as Geoff Tate's Queensryche and Hurricane to the highly original Diane & The Deductibles sound.
A female fronted classic rock band that fans of Heart and Bonnie Riatt are sure to enjoy, Diane & The Deductibles has just unveiled their second album TWO. In addition to the trademark guitar work of Robert Sarzo, also included within the members of Diane & The Deductibles are Diane Adams on lead vocals and guitar, Cliff Rehrig (formerly of Air Supply) on bass, Keith Lynch (music director for the Bill Ward Band) on guitar, and Ronnie Ciago (formerly of Riverdogs and Brand X) on drums.
Diane & The Deductibles will be playing two shows supporting The Motels in Southern California. The dates and venues are:
October 18th - The Canyon Club in Agoura Hills, CA
October 19th - The Canyon Montclair in Montclair, CA
Discount tickets may be purchased here:
www.dianeandthedeductibles.com
Photos: (Click photo to enlarge)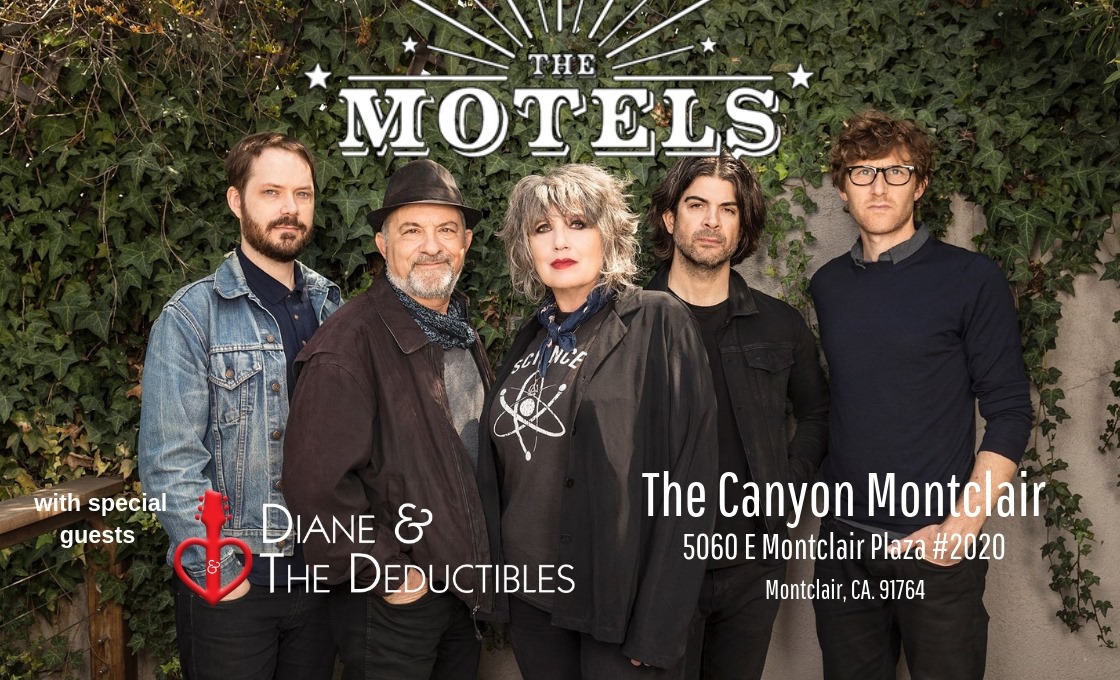 Click to Contact